With everyone and their neighbors talking about the death of Osinachi and more persons coming out to reveal their plight or walking away from domestic abuse, I came across what I can call the most interesting real-life story this week from Adaora.
In the 90s, her father drove his family down to his hometown in East, a 10 plus hour journey with bad roads and all. They arrived tired, and ready to sleep, but on stepping out of the car, a family member said something to her mother, something insulting , her father insisted the person should apologize to his wife, and the person refused. What did he do next?
The person had called his wife "Ekwensu Ocha" which translates to "white devil", in a manner to say, her father brought the white devil to the village. He put his whole family back in the car and left the village the same day, when the person refused to apologize. Remember they had just arrived from a 10 hour journey, but that insult was enough for her father to take that decision, painful and exhausting as it must have been. Adaora's Mother is not a black woman, so you can understand the context and the discrimination.
Love should not have to be hard, sad, exhausting, insulting, full of useless sacrifices brought on by pain caused by another person. Love protects, and this was a true story of protection. I feel many need to see more stories like this to know they can be loved correctly or how being loved correctly looks like.
Adoara Lumina Mbelu is a personality those seeking purpose, their truth and willing to connect to their inner light can relate with. She says she is elevating human consciousness and I think she is doing just that. Find her and follow her online for a good dose of useful content.
HAVE YOU DOWNLOADED THE FREE E-BOOK ON THIS BLOG.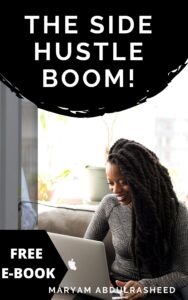 THE SIDE HUSTLE BOOM will teach you specific ideas for businesses you can start right at home.
You want this book because I promise it gives you a new information you never heard of or thought about to make extra change.
You want this book because even if you don't know how to do the typical buying and selling, you can learn how to render a service fill a gap for people and make your cash.
You want this book because even if you are only job hunting there are tips in there to help you be a more efficient job searcher.
You want this book because even if you are already an existing business owner, you can learn a few tips to expand your reach.
You definitely want this book, so grab your HERE
You can find other books on this PAGE
Follow The Moral code across social media platforms if you haven't already. Let's talk Morals, values, common sense, integrity.