Following the scary and trending story told by the lady who traveled to Zanzibar and stayed in a hotel where she might not only have been violated but might have lost her life.
Let's look at some safety tips for travel or staying in hotels. Personally I'm still scared of solo travel myself. Yet sometimes even within the country, you may have to travel for work and stay in hotels. That said, here are my tips around safety.
Travel in a group, with someone familiar or with friends. If you are traveling for leisure, many companies offer group tours of vacation destination, join them.
Have the room numbers of your travel mates to easily reach them on your room intercom.
If you have to travel solo, please buy your own safety locks for your hotel room door. So even if someone has a key, they can't get in. This is very important, search any e-commerce site and you can get a lock to use on many trips. Your hotel room might have a safety lock, use that and probably use yours too.
Always inform someone back home of where you are, tell them your room number and send pictures of the room and outside window.
Push one of the arm chairs in your room towards the door at night. Especially if you don't have a safety lock yet.
Lock your window by yourself, double check before sleeping, hotel window often don't have burglary proof, if there is a decking near your window, just as you can open it and step outside so can someone open it and come in. So lock your windows.
Get you your own secret camera and record at night. There are cameras disguised as pens, toys or other objects, you can get one and place somewhere at night before you sleep facing the door of your room. Let someone else very close and trusted know you have a camera.
Last last, abeg make we dey add prayer, the things in life that are out of your control are many and so you have to call on God even ahead of your journey. Ask Him to remove all obstacles and dangers ahead, let the thinkers of evil not even think to your side, if they do, let them fall inside ocean and be swallowed by whale before they even reach you. Amen.
Stay safe dear humans, add your own tips in the comments section and Happy Easter to Christian Brethrens and Sisterehns.
HAVE YOU DOWNLOADED THE FREE E-BOOK ON THIS BLOG?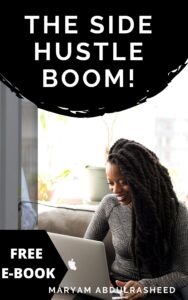 THE SIDE HUSTLE BOOM will teach you specific ideas for businesses you can start right at home.
You want this book because I promise it gives you a new information you never heard of or thought about to make extra change.
You want this book because even if you don't know how to do the typical buying and selling, you can learn how to render a service fill a gap for people and make your cash.
You want this book because even if you are only job hunting there are tips in there to help you be a more efficient job searcher.
You want this book because even if you are already an existing business owner, you can learn a few tips to expand your reach.
You definitely want this book, so grab your HERE
You can find other books on this PAGE
Follow The Moral code across social media platforms if you haven't already. Let's talk Morals, values, common sense, integrity.