Woke up to a message from a friend telling me to check out a trending topic trending on twitter around a name, Glory Osei. He'd wanted me to see it and had related it to somewhere we had both worked, but I also didn't hurry there as twitter isn't one of my top go-to social media platform. But as the day rolled by, I started seeing bits of the topic here and there and I had to go look. There was really a lot to digest, the painful to read, the funny and the out rightly ridiculous.
From the Glory Osei & Muyiwa saga, here are some take home lessons from the saga.
THAT SOME STILL SUFFER STOCKHOLM SYNDROME
One young writer of 20 shared how he left his former city of residence and moved to Lagos. Rented an apartment, was happy to work for said Muyiwa, basically worshiped him and looked for his approval, yet young dude got sacked 3 months later. This drove him into depression, he returned home a battered person. Yet he still called Muyiwa his Idol. Guy abeg, you can't still be attached your abuser, that's Stockholm syndrome.
THAT YOUR CUP WILL OVERFLOW ONE DAY
You may continue to wallow in that wrong doing, thinking you'll continue to get away with it, but not forever. Suddenly everyone woke up to a trending topic, and that could be you. You could trend for a bad or good thing, it's up to you. Keep abusing someone in private, abusing the rights of people, whatever it is your cup does get full.
THAT WE DEFINITELY NEED BETTER LABOUR LAWS IN NIGERIA
How can 90% of working conditions and terms in this country be so ridiculous? How can abusers in high places, who say they are bosses or employers, keep getting away with evil? We need so many laws to correct many anomalies in our society, laws that are actually implemented against erring persons.
THAT NAIRALAND IS HERE FOR YOU, BUT LOVE OF OTHER SOCIAL MEDIA WILL NOT LET YOU SHINE
It is indeed true that there is hardly any topic in the Nigerian context that has not been posted at a time or the other on Nairaland, one of the things that's important to do is research a company that will likely give you employment. Adding Nairaland to your Google search will lead you to finding threads where the said company must have been discussed. The OseiMuyiwa tactics had been apparently discussed on Nairaland, but many would have still fallen into the trap from not being aware.
THAT YOUTHS ARE INDEED GOING THROUGH HELL IN THE NAME OF JOB SEARCH
The experiences shared and being shared daily is just sad, how can you be blessed enough to employ people, yet chose to exploit them, abuse them, destroy them, give them hope and snatch it right back, for no good reasons. Why should I be employed as a front desk officer and still go to your house to cook fried rice, and teach your kids lesson? So many ridiculous things. The government is not only the problem, we are our own problem.
THAT WE NEED MORE NAMING AND SHAMING
Name and shame that leader in your area that's an unrepentant exploiter, name and shame the corrupt politicians, name and shame the rapist, the pedophile, the bad boss, the bad employee, after all some employees too are from hell, let's keep up with the naming and shaming, maybe one day we will come to know the majority who are not worth our time.
DON'T BE THIRSTY FOR JUST ANYTHING
Stay in your house and don't take that shitty job, or it will make you a more broken person than before you took the job. Because the truth is, irrespective of all that has been said of this couple, someone somewhere is getting ready to take their job. Being thirsty for just anything is exactly how you get poisoned.
THAT LIKE PEOPLE ATTRACT THEMSELVES
How can two people how are a couple become famous for being scammers, deceivers and oppressive employers? How do they live with themselves? Answer is because they are birds of a feather.
THAT MANY PEOPLE CONTRADICT THE MESSAGES THEY PREACH
How and why should we find a religious leader involved in corrupt acts? They are contradicting what they preach. Why are so called radical feminists very far form their own messages? How can someone who is famous in the public space for being a fighter of the right of others be the same person who oppresses his own employers? People sometimes pass a message not because it is from their inner person or actual passion, but because it is an act that sells, it is convenient at the time and for some they corrupted along the line. The do not learn to live above their demons.
We are not sure Glory Osei & Muyiwa will turn a new leaf or can even be bothered to, some people are set in their greedy, selfish and wicked ways, nothing changes them, we can only hope youths do not keep falling into the hands of exploiters.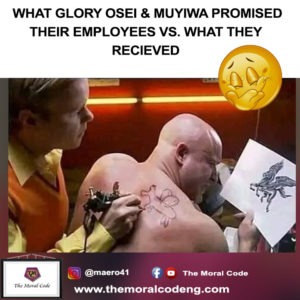 Watch this piece titled BAD BOSSES, BAD EMPLOYERS
[embedyt] https://www.youtube.com/watch?v=s6NWXkPcwnM[/embedyt]