The home is a foundation on which a lot of things about an individual's life stands. Often times an ill-mannered person is asked the question "who raised you?"
By observation, one can say that kids who did not have present and active parents in their lives often times than not have a twisted kind of life.
Parenting is guidance, parenting is support, parenting is devotion, it's a whole lot of things. With the kind of adults we see these days I believe there is such a thing as dangerous parenting.
So what are some tips parents can employ to avoid raising morally bankrupt kids?
THE CONTENT IN OUR HOMES
In this digital age, what content are kids being exposed to right in the homes? I recall a friend's annoyance at seeing his nieces and nephews watching the famous Big Brother Naija with their mum. This is a show that many adults don't even see the need to watch as it barely has anything of value to offer and showcases ill-behaved persons and immoral acts, yet a mother didn't deem it wrong to watch this along with her kids.
Some leave adult movies lying around carelessly, some do not check what content their kids are watching. A conscious and responsible parent should see and screen the content in form of movies, cartoons and the likes they intend for viewing by their kids to avoid exposure to the wrong content their little minds cannot understand.
This also includes wrong music, "all I want is your waist" is not music kids should be listening or dancing to. Watch  this video linked to see how suggestively some kids dance  SOME IMPLICATIONS OF INDECENT DRESSING
TEACHING THEM RED FLAGS TO LOOK OUT FOR IN PEOPLE
It's not okay for a parent to feel uncomfortable discussing what they think are intimate issues with their kids. In this increasingly perverted world, kids need to be taught what "private parts" mean. It is for you as an individual to protect so that no one violates your body, kids should be made to understand this fact. There are too many damaged adults who were not protected from sexual harassment as children, because these kids didn't even know what harassment or abuse was.
Kids should be taught to stop adults from calling them things like "my wife" or "my husband" by making it clear to persons who refer to them as such that their parents have said it's inappropriate. Kids should be taught to clean and bathe themselves early enough to reduce the chances or need to have others do this for them, as this is often the periods where sexual abuse spring from. Kids should be taught when a seeming play from an adult or fellow child is crossing the line, either crossing the line verbally or physically.
BASIC COURTESY AND MANNERS
A child taught properly and given guidance shows good manners. Kids should be taught to greet their peers and adults alike. They should be taught to clean after themselves as it makes them more responsible at an early age. They should be taught table manners, taught to thank their parents or providers after a meal, after a gift or after a service rendered them. This teaches them gratefulness rather than entitlement, which is a problem with many adults in today's world.
REWARD FOR GOOD DEEDS & PUNISHMENT FOR BAD ACTIONS
Some parents accept and condone all behaviors their kids' exhibit. So much that onlookers or strangers get irritated and annoyed when a kid is not disciplined. Good deeds should be acknowledged and rewarded by parents, if not rewarded all the time to avoid a kid thinking they must always get rewarded, then a good deed must always be acknowledged as good, this spurs a child to aspire for even more good.
Same goes for wrong doing, a child that gets away with wrong doing all the time is going to be a very irresponsible adult that never sees the wrong in their actions, no matter how much you try to make them see it.
RULES AND HOME TRAINING ARE NOT FOR GIRLS ALONE
This picture is self-explanatory on this point, too many parents focus more or solely on their female children. Wrong!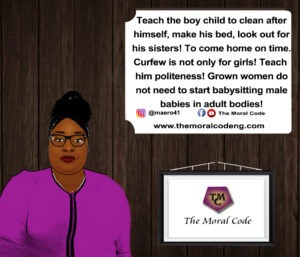 MORE KIDS NEED TO LEARN SELF DEFENSE
Since the dangers around us in society is increasing, it's a good idea to teach kids self-defense at an early age. They can attend karate or taekwondo classes. This they can keep learning into teenage hood. There would be lesser female victims of rape if self-defense is learned by the majority especially at an early age.
UNDERSTAND THE DEITY CALLED GOD
The homes scream religion but lack God Consciousness. A child that understands obedience to God will respect and obey their parents either in their presence or in their absence.
Too many homes now also pay attention to materialism rather than values. Good values are being lost every day. Teach children early in life the cost of good and evil, the reward with God for good and the punishment with God for evil and prohibited acts. Kids who understand that beyond this life is another life and we will give account to God.
Parenting is tough, and in the end individuals have the responsibility of deciding what they make of their lives as adults. However it is very important to have this solid foundation. Just as life is unpredictable, anything could happen and parents sometimes die and leave their kids behind, the lessons taught these kids. The voices of their parents is what remains with them for a long time to come.