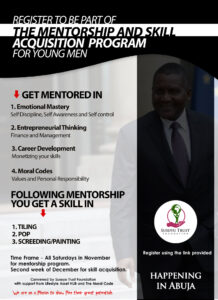 REGISTER FOR THE FREE MENTORSHIP AND SKILL ACQUISITION PROGRAM HAPPENING IN ABUJA
STRICTLY FOR MEN
Many organizations, Individuals are focused on Women empowerment, Career Development. Women have more safe havens they can run to if they are are in trouble.
What about our Men? Who is teaching the man he can be more? Who is teaching him about they potentials sitting inside him yet untapped?
Who is teaching our men how to be proper men, true gentlemen and true leaders?
This is why we have set out on this mission, to not only mentor young men on key topics that can make them better people, but we are taking it a step further by providing skills they will learn which can earn them a living.
This event will take place in November and December in Abuja. The topics to be treated during the mentorship sessions will happen on the 4 Saturdays in November starting from 7th November the first Saturday in November to the last Saturday 28th November. Note, that this is only on Saturdays.
Skill acquisition will be in the 2nd week of December. Refer to banner for more details.
Tell your brothers, cousins, uncles, neighbors. Limited slots available. Refer to banner for more details.
Use link below to start registering.
https://docs.google.com/forms/d/1dOyCBIoMzZ88TpD6SrhIlwnOfxv8tuH7GNYbzFdYZVg/edit?usp=sharing
NOTE – Remember that how well you fill the form will determine your chances to be shortlisted.