A rather hilarious scenario. When the hunter becomes the hunted. Why are they seated comfortably though without handcuffs for that matter. Kidnapping has been rampant even occurring in city centers, stay safe out there and avoid the danger prone areas. These kidnappers are also killers.
Anyways, this is the the story below as reported on Instablog.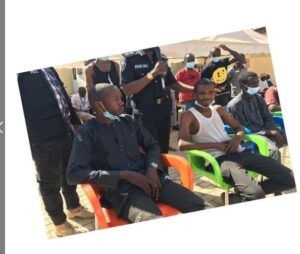 Notorious Abuja kidnapper pays N1.5m ransom to regain freedom after being abducted by another kidnapper
.
.
Mohammed Amodu, a kidnapper who's famous for his nefarious activities in Abuja environs, was kidnapped by another kidnapper, Buba Babu, 35, and had to pay N1,555,000 for his freedom.
.
.
Force Public Relations Officer, CP Frank Mba, disclosed this while parading both kidnappers alongside other criminals in Abuja on Monday, January 11.
.
.
Babu took Amodu into custody and when the abducted kidnapper hesitated to pay, he was shot in the arm. Mba said Amodu had boasted he had charms and could not be shot. Babu shot him to show how serious he was.
.
.
Amodu confessed there was a time his gang kidnapped 20 victims at a time and he had saved up to N15 million from his nefarious activities. He added that he witnessed an operation where Buba kidnapped 55 persons from a luxurious bus at a time.