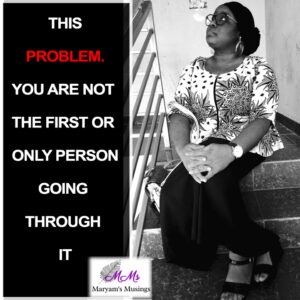 Okay so you are a single mother, you are feeling depressed, annoyed, frustrated. Don't forget God chose a woman to bear a Man that will bring a great message to the world her name is Maryam, Mary, Maria as different faiths call her. Even the people thought she had brought dishonor to the land, herself and her family when she showed up with an infant until that infant began to speak. Channel your energy to raising great kids, it was not easy for Mary either, especially when life just happened and you found yourself here.
Lut also known as Lot had a spouse that didn't listen to God's instructions, so she perished, Pharoah had a good wife more compassionate than he could ever be. Sometimes, how your partner turns out is not your fault or burden to carry, you can only try to pick right, people will still choose their path.
Job also known as Ayub suffered loss and endured illness for years, but through it all, he was patient and hopeful on God. Be hopeful and patient in your illness, it's not a choice you made, just a situation you found yourself. It will pass.
Nuhu same as Noah informed the people to listen to the warnings of God or they will perish in the flood, even the closest to him, maybe even his blood didn't listen. You may find disobedience from those you love the most and you may find you are passing a message you know is true but some people will still choose to be heedless.
Zachariah and his wife had a child in advanced old age, which means they dealt with childlessness for years. But when it was time, it was time.
Waiting is hard, no doubt but you are not alone in anything you are going through, Men and Women picked by God himself went through trials and many others in the history of the world have gone through what you are going through. So you are not hated, you are not being denied, you are not cursed. Depend on the One who has knowledge of all things and remain hopeful, we are only passing through this life on a journey, every single breathing human being has trials.
Thanks for reading and I hope your heart is relieved of any burden holding it down this fine morning.


adana escort
adıyaman escort
afyon escort
ağrı escort
aksaray escort
amasya escort
ankara escort
antalya escort
ardahan escort
artvin escort
aydın escort
balıkesir escort
bartın escort
batman escort
bayburt escort
bilecik escort
bingöl escort
bitlis escort
bolu escort
burdur escort
bursa escort
çanakkale escort
çankırı escort
çorum escort
denizli escort
diyarbakır escort
düzce escort
edirne escort
elazığ escort
erzincan escort
erzurum escort
eskişehir escort
gaziantep escort
gebze escort
giresun escort
gümüşhane escort
hakkari escort
hatay escort
ığdır escort
ısparta escort
istanbul escort
izmir escort
izmit escort
kahramanmaraş escort
karabük escort
karaman escort
kars escort
kastamonu escort
kayseri escort
kilis escort
kırıkkale escort
kırklareli escort
kırşehir escort
kocaeli escort
konya escort
kütahya escort
malatya escort
manisa escort
mardin escort
mersin escort
muğla escort
muş escort
nevşehir escort
niğde escort
ordu escort
osmaniye escort
rize escort
sakarya escort
samsun escort
şanlıurfa escort
siirt escort
sinop escort
şırnak escort
sivas escort
tekirdağ escort
tokat escort
trabzon escort
tunceli escort
uşak escort
van escort
yalova escort
yozgat escort
zonguldak escort
marmaris escort
bodrum escort
alanya escort
side escort
konyaaltı escort
muratpaşa escort
manavgat escort
çeşme escort
sincan escort
çankaya escort
keçiören escort
mamak escort
etimesgut escort
buca escort
konak escort
karabağlar escort
bornova escort
karşıyaka escort
bayraklı escort
alsancak escort
ataşehir escort
pendik escort
maltepe escort
kartal escort
kadıköy escort
görükle escort
atakum escort
ayvalık escort
mersin escort
mezitli escort
pozcu escort
deutsche escort
berlin escort
düsseldorf escort
hamburg escort
münchen escort
stuttgart escort
berlin escort
düsseldorf escort
hamburg escort
münchen escort
stuttgart escort
deutsche escort
köln escort