Being someone who treats loyalty like a religion as I always say, you won't doubt it when I like you, when I'm on your side, it will be crystal clear. I don't take special close people in my life for granted. Or those who have shown me kindness and consideration at any point in the past.
Enemy is a strong word. It means someone who wishes you ill, has done you great wrong in the past without correcting their wrong or apologizing, and will do it again if they can, it means they can harm you without really thinking twice.
So that thing people say about not inheriting someone's enemy in certain context does not work for me. Because there are some people who just want to use such statements to get away with nonsense two faced behavior. In this life there are certain things you don't sit on the fence about, you take a clear stand.
If your so called friend is rolling with someone you don't feel comfortable with, someone who's done you wrong and you are keeping at arms length, then is that even your friend? Because FRIEND too is a strong word that people just throw around.
Another context is your mother, if you have a good healthy relationship with your Mother, Father or siblings, can you be friends with someone who has wronged them? Because you don't inherit enemies?
Anyways, I'm just musing, but for me, I can even carry the fight of a random stranger somebody is trying to cheat, abuse or harass on my head, let alone those I care about. I'm not having it. I won't lie and pretend that doesn't backfire too. I mean imagine person wey you carry im matter for head come dey do anyhow later. But I'll keep being that person Sha, even for my own conscience.
So for me, the enemy of my friend in the moment cannot be my friend. If tomorrow something changes, fine. But in the moment, No!
Was reading recently too about ladies who ended up marrying their sister's husbands or fiancé. Make it make sense, there are desires you will have in this life that if they will cause betrayal or heartbreak for someone else, you kill those desires, because how can you do that to your own blood, are you the devil's apprentice? 🤔
Thanks for reading my musings. Do follow TMC across social media platforms for daily posts. 🙏🏾
HAVE YOU DOWNLOADED THE FREE E-BOOK ON THIS BLOG?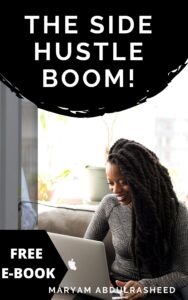 THE SIDE HUSTLE BOOM will teach you specific ideas for businesses you can start right at home.
You want this book because I promise it gives you a new information you never heard of or thought about to make extra change.
You want this book because even if you don't know how to do the typical buying and selling, you can learn how to render a service fill a gap for people and make your cash.
You want this book because even if you are only job hunting there are tips in there to help you be a more efficient job searcher.
You want this book because even if you are already an existing business owner, you can learn a few tips to expand your reach.
You definitely want this book, so grab your HERE
You can find other books on this PAGE