I can't help but see everything through that moral lens. It's so we all can get to examine that angle to life, to movies, books, daily happenings. So I'm still watching Tyler Perry's Sistas & often times I get turned off by certain show of certain lifestyles when watching movies or series. I often stop watching some, as I begin to question what exactly it is adding to me life. 
Tyler Perry is famed for great stories & that was the catch for watching the Sistas series. Certainly, some are not his fans but I am….erm, scratch that, may be I was, not sure I still am. Tyler Perry's films used to be so strongly about the black family life, morals, the repercussions of actions, the importance of God & Faith in the family setting, doing right after setting off on a wrong course. BUT WHAT IN THE "I DON'T UNDERSTAND" IS THAT MAN WRITING & PRODUCING THESE DAYS?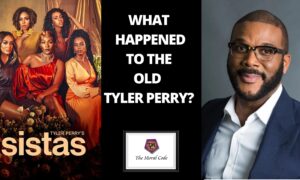 Oya let's look at the Sistas series – Every single woman in this series gets intimate with almost any random man & every single one of them bring men they don't even know that well to their apartments. Is this what freedom is? Is this what the new portrayal of being a strong black woman is? These women are quick to be intimate with someone they hardly know, quick to trust men with their bodies but yet worried about having an actual committed relationship with the men.
The men in sistas don't seem to have a home, always showing up at the women's spaces. These men are  unbelievably ready to put up with so much drama & nonsense from these women & we keep going round in circles with the drama. It's such a messed up portrayal of men. 
Is Tyler Perry still a believer in God or believer of the role of the Church in people's lives? Because last I checked all Abrahamic faiths, are very clear about homos*xuality. But in his recent films, it's being forced into our subconscious that homos*xuality is okay. Like guy which one you dey? You see, that's what happens when you have a lot of money & influence, you can do with those tools whatever you like. I can't understand how he can stand for multiple conflicting values. Well, that's his cup of tea. 
I'm just here musing.
Follow The Moral Code accross social media platforms. 
HAVE YOU DOWNLOADED THE FREE E-BOOK ON THIS BLOG?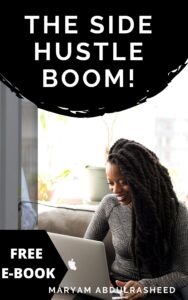 THE SIDE HUSTLE BOOM will teach you specific ideas for businesses you can start right at home.
You want this book because I promise it gives you a new information you never heard of or thought about to make extra change.
You want this book because even if you don't know how to do the typical buying and selling, you can learn how to render a service fill a gap for people and make your cash.
You want this book because even if you are only job hunting there are tips in there to help you be a more efficient job searcher.
You want this book because even if you are already an existing business owner, you can learn a few tips to expand your reach.
You definitely want this book, so grab your HERE
You can find other books on this PAGE